RAMP МР-А 9M
The mobile ramp (movable platform) is a perfect solution to the problems of warehouse and sales logistics. From the technical point of view the unloading platform is very easy to use. Its main advantage comparing to a fixed ramp is the possibility to move freely on the territory of a warehouse thanks to inbuilt transportation base. The movable platform (loading ramp) may be operated indoor and outdoor. The technique will also save your time especially if you operate the ramp with three sides unloading allowing to load/unload several trucks at the same time.
The standard set of all our platforms is completed with removable safety barriers for free comparing to the platforms and ramps of the other manufacturers. It makes our platforms more functional and provide for the additional strength to the support frame
LOADING RAMP MP-A 9M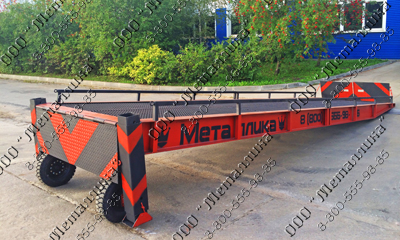 PRICE ON REQUEST
Lifting capacity

7t

Regulated platform lift

JOST jack

Wheels (5.00х8 pneumatic)

2 pcs

Overall length

9000mm

Platform width

2000mm

Width of the drive area

1700mm

Number of upper access ramps

1pc.

Number of lower access ramps

1pc.

Gauge

Length of the incline

8000mm

Length of the horizontal part

3000mm

Removable safety barriers

1pc.
User manual for movable loading platforms
Our experienced designers are ready to design a customized mobile ramp for you. You can modify the platform dimensions (length of the incline and horizontal parts, width of the platform and its drive area) and increase its lifting capacity. The machine used and the nature of cargo are considered during platform design and manufacturer. As soon as the customized design is approved, the mobile ramp will be ready for delivery in a short time!
You can get free consultation service or place an order by making a call:


+7-965-007-33-11