TRANSFER TABLE
Contact us +7-965-007-33-11
English-speaking consultants
A transfer table serves to speed up the process of cargo transfer from trucks, containers, cars of Gazel types etc. The ramp doors and adjustable supports lift are foreseen in the construction of a transfer platform and it allows to adjust the table for necessary height. The transfer table may be used a separate unit and together with a movable or fixed platform. Such transfer complex is very practical on warehouses equipped with a vertical-lift gate: the transfer table may be installed outdoor and the platform may be installed indoor. All you need to start operating the transfer complex is put the access ramp to the loading platform. One small loader is enough to move the table. The pictures of the process you will find in our photo gallery.
A TRANSFER TABLE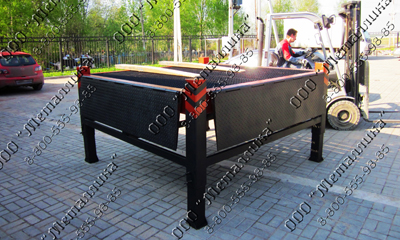 PRICE ON REQUEST
The specifications, that is the length, the width and the lifting capacity, are calculated individually depending on the client requirements.
Such transfer tables, bridges and complexes are make the logistics process easier. Again, our specialists are ready to design customized transfer table or complex.
The attachments with individual dimensions and lifting capacity may be produced by our company. We are ready to design and produce beam members, slide extenders, buckets, ploughs, grippers for big-bags etc.
You can get free consultation service or place an order by making a call:

+7-965-007-33-11