CONTAINER RAMP
Contact us +7-965-007-33-11
English-speaking consultants
A wide range of issues may be solved with the help of container ramp:

to cover gaps during unloading of cars or, for example, between the floor and the transfer window;
to compensate the difference in height so not only a loader could pass but a stacking machine as well;
to ensure the loader access to a container from the ground level.
The container ramps (access boards) are light weighed. This is essential for their movement. They can also be equipped with the carrying handles and the sectional ramp doors.
TRANSFER BRIDGE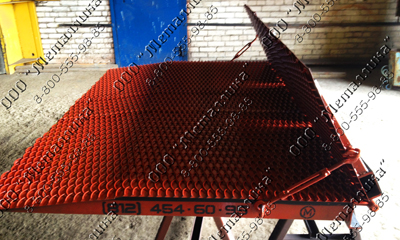 PRICE ON REQUEST
The specifications, that is the length, the width and the lifting capacity, are calculated individually depending on the client requirements.
Such transfer tables, bridges and complexes are make the logistics process easier. Again, our specialists are ready to design customized transfer table or complex.
The attachments with individual dimensions and lifting capacity may be produced by our company. We are ready to design and produce beam members, slide extenders, buckets, ploughs, grippers for big-bags etc.
You can get free consultation service or place an order by making a call:

+7-965-007-33-11