HYDRAULIC RAMP
We introduce a new line of movables platforms of "GIDRA" series. New mobile ramps create a greater variety of the platforms produced by our company. The principal feature of the construction is the installation of the hydraulic drive (manual or electric) instead of the mechanical jack system. Our designers have developed the platform hydraulic system and it may be installed to any standard model. It is necessary to change some structural components (wheel base and the upper movable access ramp) to get the modified ramp with hydraulic drive without loss of technical and service benefits which we have achieved thanks to a wealth of experience in production of fixed and movable platforms with the mechanical height adjustment.
The hydraulic drive has a variety of advantages:
• increase of the ramp lift and lowering speed;
• ease of control and adjustment of the platform;
• increase of adjustment range from 0.85 to 1.7 m;
• decrease of physical efforts applied to adjustment or no physical efforts in case of hydroelectric drive installation.
HYDRAULIC RAMP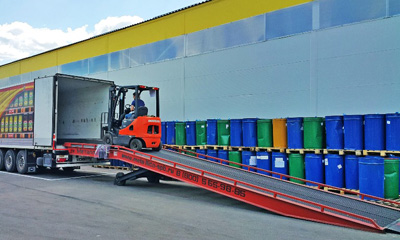 PRICE ON REQUEST
The price will increase by 1600 - 2500€ comparing to the price for a basic model, if the platform is equipped with the hydraulic drive
The special attention should be paid to the environmental conditions where the platform with hydraulic drive will operate. The clients from the regions with very low temperatures should pay special attention to the fact that the use of the hydraulic system is limited by temperatures (from 30 to+50ºС).

Our experienced designers are ready to design a customized mobile ramp for you. You can modify the platform dimensions (length of the incline and horizontal parts, width of the platform and its drive area) and increase its lifting capacity. The machine used and the nature of cargo are considered during platform design and manufacturer. As soon as the customized design is approved, the mobile ramp will be ready for delivery in a short time!
You can get free consultation service or place an order by making a call:

+7-965-007-33-11