SNOW PLOUGH
Contact us +7-965-007-33-11
English-speaking consultants
The seasonal attachments become very popular during the winter period, for example, a snow plough. The main elements of the snow plough are: blade with a rubber strip on the bottom edge, ports for the forks of a loader with reliable fixation and rotate gear. Thanks to snow plough you will get a possibility to clean a warehouse territory from snow with the help of a standard fork lift loader. The additional advantage of the snow plough produced by our company is a possibility to use it not only for snow handling but soil and sand handling as well.

You should contact our managers, if you want to buy the snow plough. We are ready to produce the customized snow ploughs considering your requirements and the machines on which the snow plough will be mounted.
SNOW PLOUGH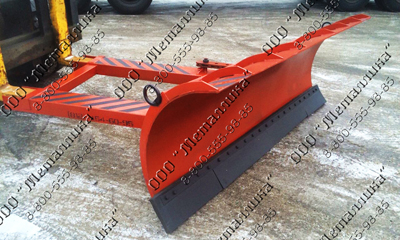 PRICE ON REQUEST
The specifications, that is the length, the width and the lifting capacity, are calculated individually depending on the client requirements.
The attachments with individual dimensions and lifting capacity may be produced by our company. We are ready to design and produce beam members, slide expanders, buckets, blades, grippers for big-bags etc.
You can get free consultation service or place an order by making a call:

+7-965-007-33-11