RAMP FOR RACK CARS
English-speaking consultants
The below described mobile ramp serves to unload the rack cars. The rack cars have two decks where the cars are situated. That is why such railway platform is adjusted for height with the help of the hydraulic drive. The safety barriers are installed along the length of the platform to prevent the car falling from the drive area of the platform. Our railway ramp is designed in such a manner that it may be used to unload the cars with different wheel bases and clearances from the rack cars. The railway ramp is also equipped with wheels to move on the territory without crane.
RAMP FOR RACK CARS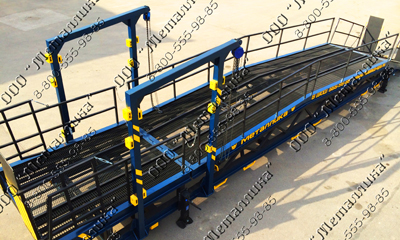 PRICE ON REQUEST

The specification depends on your individual requirements.
Ramp for rack cars unloading make the handling operations easy to carry on. These low-cost models of the movable platforms are cost effective decision of non-typical problems during handling operations.
Our experienced designers are ready to design a customized mobile ramp for you. You can modify the platform dimensions (length of the incline and horizontal parts, width of the platform and its drive area) and increase its lifting capacity. The machine used and the nature of cargo are considered during platform design and manufacturer. As soon as the customized design is approved, the mobile ramp will be ready for delivery in a short time!
You can get free consultation service or place an order by making a call: