FORKLIFT EXTENSION
Contact us +7-965-007-33-11
English-speaking consultants
The forklift extension has proved to be very useful during handling operations:
it is easy to use
there is no need to buy a set of long forks
the risk of the cargo damage by short forks is reduced
the stability during cargo transfer is increased
the risk of cargo falling is reduced
The forklift extension produced by our company has a variety of technological advantages:
side double reinforced seam
reinforcement of the forks seat
reliable fastening mechanism of extension with the help of fixing devices
polymeric coating
cut points for easy load engagement
holes at the ends to lift cargo by slings
extensions of standard size are always available
price from 7000 rubles for a standard set with a very high production quality (certificate for forklift extensions)
Pictures of forklift extension produced by our company
FORKLIFT EXTENSION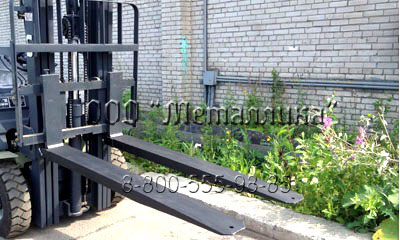 PRICE ON REQUEST
Loader lifting capacity, t

Extension length, m

1-1,8


1,2

1,4

1,8

2,0

2-2,5
1,2

1,4

1,6

1,8

2,0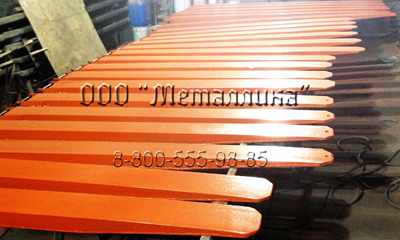 We have designed some techniques how to reinforce the forklift extension. These techniques are used, if necessary, depending on the nature of cargo and size of the own loader's forks (stacker, richtrack)

The forklift extension produced by our company has certificate of conformance to




Stock status of standard size forklift extension, production of not standard forklift extension within 3 days


The attachments with individual dimensions and lifting capacity may be produced by our company. We are ready to design and produce beam members, slide expanders, buckets, blades, grippers for big-bags etc.
You can get free consultation service or place an order by making a call:

+7-965-007-33-11