PLATFORM FOR FORKLIFTS
Contact us +7-965-007-33-11
English-speaking consultants
The work platform (basket or cradle) is another accessory that makes your loader multifunctional. The basket is necessary to lift people to a certain height. The standard work platform is a metal construction with a door and is designed for one person.
Our platforms for loaders became more comfortable, safer and more functional.
We have improved the previous model and have extended its potential for comfortable and efficient use of baskets. Now you will get:
• the back wall expanded to 2000 mm
• improved view thanks to chamfered corners of the back wall
• the front door with two locks
• standard rings for chain
• higher railings for the safety of workers
• option components: safety mesh, safety chain to fix on a slide, rollers for manual movement of the cradle on the territory, tool box with stand installed at any side for comfortable recordkeeping.
WORK PLATFORM FOR FORKLIFTS (BASKET/CRADLE)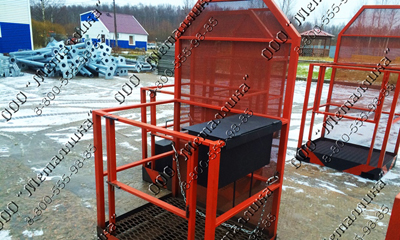 PRICE ON REQUEST
Length

1000mm

Door width is

800mm

Barrier height is

1100mm

Overall height

2000mm

Lifting capacity

200kg
PICTURE OF WORK PLATFORM FOR FORKLIFTS
The erection cradles for loaders are not widely used at sites and manufacturing facilities but during stocktaking in warehouses and warehouse complexes. If you buy a lifting platform produced by us, you will get all necessary documentation: data sheet (made for baskets in accordance with the individual marking on the nameplate), certificate of conformance to GOST R and user manual for cradles.
The attachments with individual dimensions and lifting capacity may be produced by our company. We are ready to design and produce beam members, slide expanders, buckets, blades, grippers for big-bags etc.
You can get free consultation service or place an order by making a call:

+7-965-007-33-11